Minimise Cyberattacks With Two-Factor Authentication
With an increasingly mobile and digital workforce, how do you ensure the security of employee and customer data? The rise in cyberattacks on corporate networks has made customer data more vulnerable to being hacked. It has necessitated the need for companies to have adequate measures in place to provide secure remote access to their customers and employees.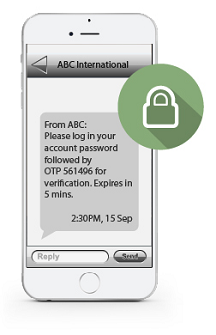 Today, most companies use either SSL VPN or IPSec to secure the remote access. However, this does not address the authenticity of the remote users. 2-factor authentication (2FA) is an industry accepted solution for remote user authentication. It provides an extra layer of security by sending a one-time password (OTP) to users via SMS on their web app or mobile device thereby minimising the risk of potential cyber attacks.
The sendQuick ConeXa platform has equipped clients with secure remote access via two- factor authentication, or 2FA, using SMS One Time Password (OTP) and Mobile Soft Token. Our solution meets all the 2FA requirements of enterprises.
With sendQuick ConeXa, even if a hacker gained access to a user's login credentials, an additional password is sent to the user's mobile phone to further verify the user's identity. The additional password sent out is for one-time use only and will expire depending on the time settings inputted into the one-time password generator.
For inquiries, email us at info@agdinfotech.com
Source: https://www.talariax.com/products_cat/secure-remote-access/