Overview
HDCVI technology is the first on the HD-over-Coax market to realize audio transmission over coaxial cable. Audio information can bring supplementary evidence for video surveillance. In order to provide users with a lossless and real-time auditory experience and a high-quality video & audio surveillance solution, HDCVI brings the advanced DAC (Digital Audio-over-Coax) technology to the HD-over-Coax industry.
Key Features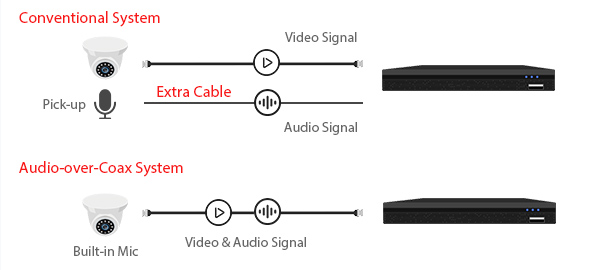 • Audio-over-Coax
DAC technology is able to transmit audio and video over the same coaxial cable, which greatly simplifies installations and saves labor and maintenance costs.

• Digital Audio Signal Transmission
The digital signal transmission technology converts analog audio signal collected from a sound pick-up or a built-mic into a digital audio signal with low level of noise and distortion.
• High-Quality Audio
With the lossless and real-time digital audio signal transmission, DAC technology can better restore the audio of the monitored site with lower noise.

• Better System Deployment
All HDCVI XVR models support audio-over-coax. Users only need to change a camera to directly upgrade from non-audio to audio solution, significantly protecting users' investment.
Application Scenarios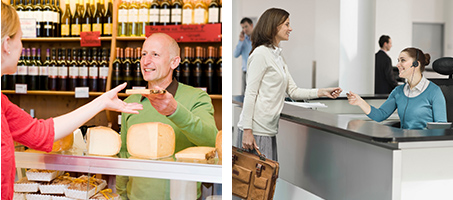 Settle Arguments – Checkout Counter and Reception
Pain Points:
Traditional video surveillance offers no audio information. Users can only rely on video monitoring to restore the scene of incident.
Solution:
When there's an argument in shops or other business establishments, the HDCVI DAC technology can offer audio evidence from the video monitoring system to effectively resolve disputes.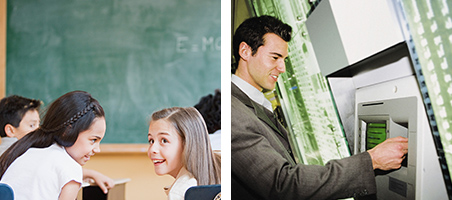 Identify Abnormal Behaviors – Bank and School
Pain Points:
Video surveillance with no audio or poor quality audio does not allow users to identify abnormal behavior in time, which may cause property loss.
Solution:
For incidents such as students fighting and illegal intrusion, high-quality audio and video surveillance can intuitively, accurately and timely restores information. It helps users to quickly identify the suspect and protect life and property.
For inquiries, email us at info@agdinfotech.com
Source: https://www.dahuasecurity.com/products/keyTechnologies/752