Improve your brand's value by better managing rich media and videos with OpenText Digital Asset Management (DAM) software solutions

Everybody wants more rich media and video. In today's customer-centric environment, managing digital media is an imperative. From marketing, creative, web, ecommerce, sales to corporate communications, we all want to engage our staff, partners, customers and market with compelling and relevant information. OpenText™ Digital Asset Management (DAM) solutions serve as the centralized, secure and accessible repository – whether cloud-based or on-premises – to manage digital media, branding and video. Our DAM solutions help people find, share and use digital media assets to deliver beautiful experiences. Scalable for the largest enterprises, our DAM solutions offer capabilities to manage the entire content lifecycle with workflows and features for creative production, collaboration, publishing and distribution of assets and to use your digital assets to drive value for the organization.
What can OpenText Media Management do for you?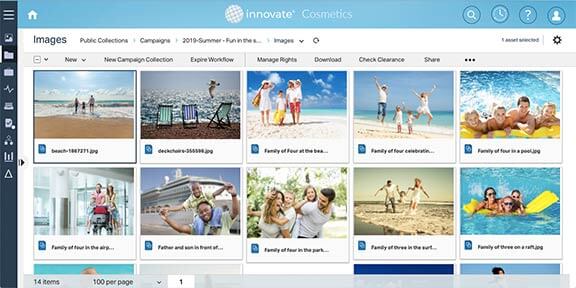 OpenText™ Media Management is a leading, innovative enterprise-class DAM that optimizes the management, use and distribution of rich media assets (images, designs, video, audio, 3D) at scale across the digital ecosystem (partners, customers, staff, agencies). Through best in class enterprise-level search, usability, security, scalability and TCO, Media Management supports billions of assets, petabytes of storage, and thousands of users, while optimizing operations, risk, integrations and cost.
Featured DAM Products
OpenText Media Management
Every company is a media company today, using rich media, images and video to communicate with partners, customers, staff and other constituents. Whether studios, retail, insurance, finance, banking, energy, manufacturing or other enterprises – you have information to share, a story to tell and something to sell. OpenText can help securely manage your digital media assets, brands and valuable IP to increase productivity, reduce costs, manage, repurpose and automate content publishing and delivery, enabling new ways to communicate and generate new revenue streams.
OpenText Media Management Connector for Salesforce® Marketing Cloud
With a powerful yet simple to use interface, OpenText™ Media Management Connector for Salesforce® Marketing Cloud helps users add assets into their Marketing Cloud authored campaign, without leaving the Salesforce User interface. The solution increases productivity and efficiency for all marketing teams and offers easy access to OpenText Media Management (OTMM) through Content Builder to more quickly design customer-facing campaigns.
Content Hub for Publishers (CHP)
Traditional, print-dominated news and information editorial software platforms are challenged with separate publishing platforms and content authoring systems creating disconnected content workflows. OpenText Content Hub for Publishers provides content authors, editors and journalists a centralized way to research, create and publish stories for print, online, mobile and social channels. CHP supports models for online, print, syndication and licensing, transforming publishing software platforms and editorial photography processes to leverage content for multichannel delivery.
For inquiries, email us at info@agdinfotech.com
Source: https://www.opentext.com/products-and-solutions/products/customer-experience-management/digital-asset-management